hdbw-hochschule.com
Student Advisory Service & FAQ
Application process
APPLICATION PROCESS AT HDBW
There is no NC at the HDBW, so you do not have to have a certain grade point average to be admitted to the Bachelor's or Master's programme. Instead, you will go through an application process with us, including a personal interview to compare your career plans and goals with the chosen degree programme.
On this page you can find out how the application process works and which documents you need.
Overview of HDBW's application process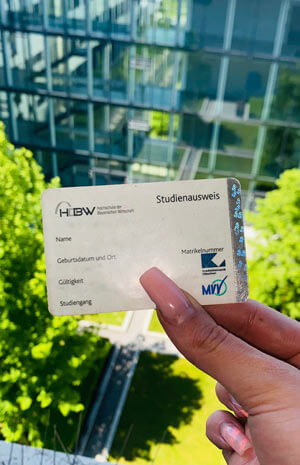 Application:
Use our online application process, where you can upload the required documents in digital form.

Personal dialogue:
We live the network idea. That's why we invite all our applicants to a personal motivational interview before they start their studies. For international applicants, this can take place virtually via Zoom, MSTeams or Skype.

Decision on admission:
After this motivational interview and when all the documents have been submitted, the HDBW will decide whether to admit you to the programme.

Enrolment in the study programme:
As soon as you have been accepted, you can register for your studies at the HDBW. Consequently, our study contract will be sent to you.
Once you have signed it, there is nothing standing in the way of you starting your studies and obtaining your HDBW student ID.
Application deadline national & EU applicants | Non-EU applicants
Summer semester 2024
Study start Master's programme | Career change Bachelor's programme
Non-EU-applicants: December 15th, 2023
Winter semester 2024/25
Study start Bachelor's - or Master's programme
Non-EU-applicants: June 30th, 2024
Documents required to apply for an English lectured Master's degree programme
Fill in the online application form and upload the following documents:
Motivation letter (approximately one page letter)
CV in tabular form
Proof of English language proficiency (at least level B2) - demonstrated as follows:
Certificate of a recognized English language test like IELTS, TOEFL, Cambridge Certificates etc. or
Official confirmation of your former university that your BA degree was taught in English
Scan of your BA diploma + transcript of records (if the certificate is not yet available, it can be submitted later)
After you have submitted your application online, we also need a scan of your passport. Please send via email to HDBW study advisory service.
FOR INDIAN CITIZENS ONLY: APS-Certificate
To study in Germany, for citizens of India not only a visa is required, but also an APS-Certificate. We at HDBW are happy to help you speed up this process. If you have already requested the APS certificate while applying at HDBW, please also name your registration number with the APS office and the date you sent them your documents. You can state this information during your online-application process (online note field on the last page), or send it via E-Mail together with your passport scan.
Documents required to apply for a German lectured Bachelor's degree programme
Fill in the online application form and upload it in digital form:
Motivation letter (approximately one page letter)
CV in tabular form
Proof of the admission requirement like a scan of your school-leaving certificate (if the certificate is not yet available, it can be submitted later)
Proof of German language proficiency (at least level B2) - demonstrated as follows:
TestDAF, DSH, Goethe Institute Certificates etc. or
official confirmation of your former school that your school degree was taught in German
If applicable, proof of previous periods of study and academic achievements
We are happy to help you with any questions you may have about your application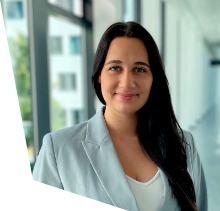 Sara Zurek
Student Advisory Service & Equal Opportunities Officer