hdbw-hochschule.com
Student Advisory Service & FAQ
INTERNATIONAL STUDY COUNSELLING AT HDBW
Student advisory service at HDBW will be happy to help you personally with any questions you may have about the Bachelor's and Master's degree programmes. For example, which study requirements you need to meet, how high the tuition fees are and how the application process at the HDBW actually works.
You may have a look at the frequently asked questions by international students on this page, which possibly clarify a lot of your own topics allready.
Let us advise you personally!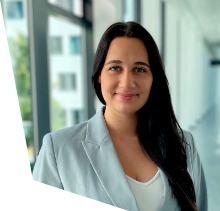 Sara Zurek
Student Advisory Service
Advice by mail, telephone, video call or on campus
Consultations available by appointment:
Online via MS Teams, Zoom or Skype
Personally on site
Campus-adress: Konrad-Zuse-Platz 8, 81829 München

Interesting to know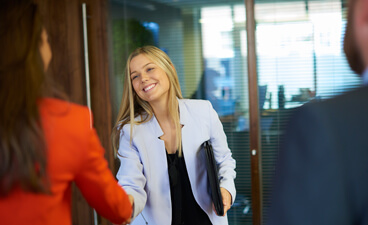 Alumni giving tips and talk about their study & professional experiences.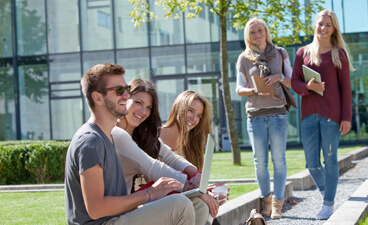 Study and living in Munich – and all about the HDBW Campus.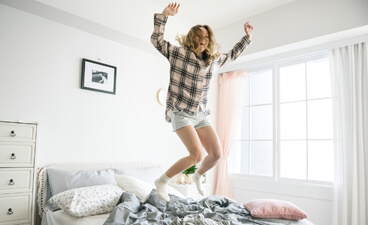 HDBW tips on your search for accommodation in Munich during your studies.
FAQ by international students
Does my Bachelor's degree meet the admission requirements for a HDBW Master?
Remote diagnoses are not possible, so please send your bachelor's diploma and an appropriate transcript of records to studienberatung@hdbw-hochschule.de.
After your documents have been reviewed by a student advisor, you will receive an e-mail informing you whether you meet the formal admission requirements for the desired master's programme.

What language requirements do I have to meet for the chosen Master?
The language requirements differ in our different master's programmes:
- Digital Business Modelling and Entrepreneurship, M.A. --> English proficiency level B2
- Cyber Security, M.Sc. --> English proficiency level B2
- Digital Factory and Operational Excellence, M.Sc.--> English proficiency level B2
- Digital Technologies, M.Eng. --> Both German and English proficiency level B2

How can I demonstrate the appropriate English language requirements?
You can demonstrate the required language skills as follows:
- Certificate of a recognized language test like IELTS, TOEFL, Cambridge Certificates etc.
or
- official confirmation of your former university that your BA degree was taught in English

What application documents do I need to submit for a master's programme?
Please fill in our online application form and upload the following documents:
- Motivation letter
- CV
- Proof of your English language proficiency
- Scan of your BA diploma + transcript of records; if not yet available, you can send these later via mail
We also need you to send us a scan of your passport via mail to studienberatung@hdbw-hochschule.de.

Applicants from India only: What is an APS-Certificate?
A certificate issued by the Academic Evaluation Center (APS) as part of the German Embassy in India. Only Indian passport holders need this to study in Germany. So if you are from India, in addition to a German student visa, you also need an APS-Certificate. We at HDBW are happy to help you speed up this process. If you have already requested the APS certificate while applying at HDBW, please name your registration number with the APS office and the date you sent them your documents. You can state this information during your online-application process (online note field on the last page), or send it together with your passport scan via E-Mail.

Do I have to send a certified copy of my diploma by mail?
During our application process, a scan of your diploma is enough. But after you have arrived in Germany, you need to send a certified copy of your diploma to HDBW by mail or show us the original.

What happens after I have submitted my documents?
After your application documents have been reviewed to determine if you meet the formal admission criteria, you will be promptly invited to an admissions interview with the program director. The interview can take place via Skype or Microsoft Teams and lasts approximately 30 to 45 minutes.
The main purpose of the admission interview is to get to know you and your motivation for studying at the HDBW. In addition, you will have the opportunity to ask the program director questions about the programme.
Directly after the interview the decision whether you have been admitted is made and communicated to you.

After the admittance, when do I receive my study contract and can apply for a visa?
After you have been notified of your admission, the Student Advisory Service will email you the letter of acceptance and the study contract.
With the letter of acceptance you can apply for a German Student Visa.
The study contract is, for the time being, only for viewing purposes: We we can only accept your signed study contract once you have received your visa, arrived in Munich and registered your residency at the Citizens Office.

Do I have to reapply if the planned start of my studies is postponed due to the visa process?
No, you do not have to apply again. In this case, please inform the Student Advisory Service by email and you will receive an new letter of acceptance for the following semester.

As an international student, can I also choose the part-time model?
Generally, as an international student you must complete a full-time course of study in order to be granted a residence permit for study purposes by the German Foreigners Office. This is to ensure that the main reason for your stay in Germany, according to your visa application, is studies and not employment.
In rare exceptional cases, the Foreigners Office will also accept part-time studies. But the experience of the past years has shown that both the embassies when applying for a visa and later the Foreigners Office when applying for a residence permit do not accept part-time studies. Especially at the embassy you risk the rejection of your application for a student visa.
Please note: The study schedule in our Masters's degree programme is designed so that you also have time for (student) part-time work during the semester.

Can HDBW help expedite my visa process at the embassy responsible for me?
No, your visa is decided solely by the embassy responsible for you. HDBW nor any other university has no influence and cannot speed up the process.

What is the total tuition fee for a Master's degree at HDBW?
Tuition fee in total: 12.960 €

Full-time: Tuition fees per month: 720 €
Tuition fees per semester (1 semester = 6 months): 4.320 €
Standard period of study: 3 semesters

Part-time: Tuition fees per month: 432 €
Tuition fees per semester (1 semester = 6 months): 2.592 €
Standard period of study: 5 semesters

Please note: Each semester in excess to the standard period of studying costs 100% of the regular semester fee.

List of all HDBW tuition fees and Munich Student Union semester fee.

What is the monthly cost of living in Munich?
This depends very much on your accommodation (own apartment, student dormitory or private shared apartment).
As an average cost of living you need to expect 800 - 1.200 € per months in addition to your tuition fees.

Does the HDBW offer student residences?
We do not offer student appartments. However, you can apply for a dormitory room at the Studentenwerk München.

Are there scholarships for international students?
International students can apply to numerous organisations for a scholarship. Find more info on the DAAD's pages on study and research in Germany.
HDBW itself awards Deutschlandstipendium twice a year to students who demonstrate special achievements within their studies and a high level of social commitment. The scholarship supports the selected students with 300 € per month for a total of two semesters (1 year).
Prerequisite for an application is that you are either already an enrolled student, or your start of studies at the HDBW is already certain during the application phase. The application phases are always in February/March for the summer semester and in September/October for the winter semester.
You will receive the application documents upon request from the Student Advisory Service within the above-mentioned application phases.

During my visa process, I have applied at another university. Can I transfer to HDBW after arriving in Germany?
Experience has shown that this is possible and that the university approval on the basis of which you received your visa is not necessarily binding.
Nevertheless, please inform yourself in advance at the relevant Foreigners Office.

I am already studying at another university in Germany, can I transfer to HDBW?
You do not need special permission to change your course of study or subject within the same field of study. The purpose of residence is not affected by this. The same applies if it is merely a change of focus within the framework of the course of study. However, we would still advise you to ask the responsible Foreigners Office if you need permission - just to be absolutely certain.
Anyhow, the change must be approved by the responsible Foreigners Registration Office. Please notify the Foreigners Office of the change immediately, at the latest, however, within 14 days after the new enrollment. After the approval of the change of study, the ancillary provision or the supplementary sheet to the electronic residence permit will be changed. The issued residence permit remains valid.

Change during the orientation phase:
A one-time change of subject/university is usually possible during the orientation phase. The orientation phase ends at the beginning of the 4th semester.

Change after the orientation phase:
A change of the field of study/university after the beginning of the 4th semester is only possible in exceptional cases. You must coherently explain the reasons for your intended change.
A change may be permitted in individual cases if the studies can be completed within a reasonable period of time (maximum 10 years total stay). In order to be able to assess this, we need an overview of your previous academic achievements and confirmation of the extent to which these previous achievements have been recognized for the subsequent purpose.

Can I do an internship during my Master's program at HDBW?
A mandatory internship is not included in the HDBW Master's degree curriculum. You can either do a voluntary internship during the lecture-free period or during a semester off.
Please note: The application for a semester off must be made in writing, within the stipulated period, and requires the prior consultation or approval of your programme director. In addition, you will not be able to earn ECTS credits as part of your voluntary internship.

Am I allowed to pursue a part-time student job during my Master's degree?
Yes, depending on your residence permit you are allowed to work within a certain time frame. The exact number of days is stated on your residence permit. Usually you are allowed to work either 240 half days or 120 full days per year alongside your studies.

When will I receive my enrollment certificate and access data?
You will receive your access data shortly before you start your studies and can then download your enrollment certificate independently on the first day of the semester:
- October 1st in the winter semester and
- March 15th in the summer semester

Do I get a HDBW student ID and is there a semester ticket for public transport?
Yes, as a full-time student you will receive a student ID card which is also your semester ticket for limited public transport around Munich.
In order to receive your student ID card, you have to transfer the semester contribution - a solidarity fee for the Munich Student Union pluis basic fee for the semester ticket - to the HDBW in advance. You will receive the payment request by email before you start your studies.
Please note that the semester ticket is only valid for your leisure activities at weekends and during workday evenings. If you need to use unlimited public transport during the entire week, you can additionally purchase an IsarCard Semester at a ticket machine of the Munich public transport services (MVV/MVG) by entering your matriculation number.
Helpful links for international students: How to
More helpful links: What to do once you are in Munich