hdbw-hochschule.com
Practice & Cooperations
Alumni and their practical experiences
Lars Oelgeschläger
HDBW ALUMNI: TIPS, EXPERIENCES & CONTACT
Here you can find out about the careers of former HDBW students: What did they study and what professional experiences did they have during their studies?
In addition, the alumni answer some questions about studying at the HDBW and give their contact details. If you have any questions for them, they will be happy to help you!
Lars Oelgeschläger | MSC.Software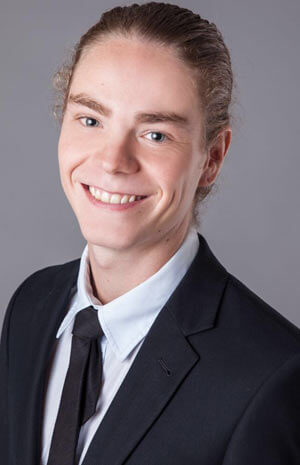 Lars Oelgeschläger already completed the practical part at MSC.Software during his dual track mechanical engineering studies with a focus on digital product development at HDBW.
In March 2022, he graduated with a Bachelor of Engineering and now works as Simulation Engineer - Presales Technical Support at MSC.Software.
3 QUESTIONS:
Were there things in your HDBW studies that particularly help you now in your professional life?
"Through my studies at the HDBW, I was able to acquire a lot of technical knowledge. This knowledge helps me in my current position at MSC.Software. Soft skills such as presenting developed results also help me a lot there."
What tips do you have for current students?
"It is important to attend all lectures and to deepen what you have learned in the follow-up. Also, because of their close practical relevance, the lecturers can respond to questions that are directly related to the work. So my tip is to ask questions if something is unclear or there is particular interest in a topic."
Can current HDBW students also do work-study jobs, internships, etc. at your company?
"My company tends to hire dual students. You are also welcome to contact me about this, I may be able to help with placement."
What else Lars would like to say:
"I really liked studying at the HDBW. For one thing, because of the very small groups. This gives students the opportunity to talk to the lecturers personally. If there are any uncertainties or difficulties, you can always turn to the lecturers. The fact that the lecturers work or have worked in industry means that they can convey content in a clear and practical manner. Thus, the HDBW is a great university if you not only want to acquire theoretical knowledge, but are interested in being educated with a strong practical orientation. Also, the different majors help you to further deepen your own interests."
Contact options:
Lars Oelgeschläger on LinkedIn
Contact Lars Oelgeschläger by email